Great news, sausage fans – our first ever Sausage Festival Week is almost here! Running from Tuesday 26th to Saturday 30th November, we're offering a choice of 10 locally made bangers alongside mash, peas and gravy for just £11.50. What's more, we're delighted to be renewing our long association with David Bell at Bangers Galore, whose sausages are quite simply as good as it gets.
When it comes to quality and taste, David is considered sausage royalty. Starting out as a butcher's apprentice in 1981, he's gone on to win countless local and national food awards for his hand made sausages. This includes the prestigious National Champion "Sausage Maker Of The Year" award in 1992 and 1994, as well as serving up sausages for Prince Edward and supplying 9,000 bangers for the Brit Awards.
We sat down with David for a quick chat about his favourite topic: bangers!
David, your sausages have won dozens of awards over the years. What's the secret?
Well, I can't tell you the secret! It's like the Coca-Cola company – only two people alive know the complete recipe. I'll tell you what makes our bangers different from mass production companies. We use good meat in the sausage – all pork shoulder. We then hang our sausages out to dry and mature, which brings out more flavour, rather than sticking them in a packet straight away.
What about the seasoning?
We're careful not to overpower the sausage [with seasoning.] You want to taste the meat first and foremost. Supermarkets will over-season the sausage to cover up the lack of a proper meat taste.
So, what's the most popular sausage you make?
Probably Cumberland. Traditional is the best seller, although Cumberland runs it a close second. We usually have 10 flavours on the go, plus a flavour of the month. We do a Beef & Guinness sausage, which people can try at the Sausage Festival. And this month's special is the Tomato & Basil.
Your partnership with Dave at the Olive Branch goes back a long way…
That's right. I first met Dave about 15 years ago when he was running the Boar's Head [in Horsham.] We used to supply sausages to him there. He was doing top-notch sausage and mash, and really brought the pub alive. Then when he moved to Essex, he was such a fan of our sausages that he asked us to keep supplying him up there!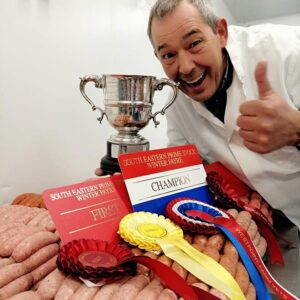 You've been in the sausage game since the 1980s. Have you noticed any trends that come and go?
Chorizo was a big trend that came in a few years ago, and it's really stuck. We have so many different flavours as flavour of the month, and the most popular ones stay on. Sage & Red Onion was a monthly special, and now it's our third most popular sausage. Then there's Gluten Free sausages, which are actually more popular than veggie or vegan as a lot of people are looking to cut out wheat from their diet.
But people will always go back to their pork & apple, traditional Lincolnshire and so on. Sausages will always be around – the British banger is part of our national cuisine.
And are you seeing more demand for spicy sausages, like Chorizo?
Absolutely. Twenty years ago, children didn't want spicy sausages. But now, with more families going on holiday to Europe and trying new flavours, children have grown up liking spicy food.
Have you ever had any unusual requests for a sausage?
I've made a crocodile sausage before! We've also had a request for a sausage without any salt or preservatives in it, but it was very bland and tasteless. But I will make anything for anybody.
Are there any other events you do besides Sausage Week?
Not so much these days, as I mainly concentrate on retail and catering. We still do firework events, such as the big barbecue at Leath Hill fireworks. We also do very well down at Horsham market [every Saturday]. And of course, we supplied the Brit Awards a few years ago.
Thanks David!
My pleasure.
Our Sausage Festival Week runs from 26th to 30th November at The Olive Branch. For £11.50 you can choose three Bangers Galore sausages served with traditional mash, peas and gravy. Keep your bangers 'n mash receipt and claim 15% Off Bangers Galore sausages at Horsham Market this coming Saturday! Click here to book your table.